Accessing services from Economic Licenses Counter by Appointment Only
May 22, 2020 1:00 pm
The Department of Economic Licenses has introduced a new procedure regarding the services it offers. Services will be provided by appointment. The public is hereby informed that effective Monday, May 25, 2020; an appointment for services offered at the Economic Licenses counter at the Public Service Center (Government Building) must be first made online prior to visiting the counter. As of May 25, 2020, services offered on a walk-in basis, will no longer be handled. Clients are encouraged to visit the website:
http://appointments.sintmaartengov.org/services
and follow the necessary steps to book your appointment online for your respective service(s). Please be advised to arrive 15 minutes prior to your appointment time. Online appointment bookings are available for the following services: 1. Applications for any Economic License (new requests)
a. Business, branch, and director licenses
b. Operational licenses (HORECA)
c. Vending licenses (incl. up to 21 days licenses)
d. Public transportation (help drivers, transfers, substitute vehicle)
e. Fishery (incl. lobster licenses)
f. authentic copies
g. extended opening hours
h. Bingo/ Buffet/ Raffle licenses
2. Applications for address, name, purpose changes to:
a. business and director licenses
b. vending licenses
c. operational licenses
d. public transportation licenses (bus, taxi, T's, G's, Car rental licenses)
3. Applications for cancellations of:
a. Business and director licenses
b. Vending licenses
c. Operational licenses
d. Public transportation licenses (bus, taxi, T's, G's, Car rental licenses)
4. Operational statements (proof that the company is operational). Proper protective gear (facial masks) and adherence to all security and safety (social distancing) guidelines are required when visiting the Government Building. The public is also advised to stay tuned to the official Government website and other social media platforms regarding other services or adjustments in services that will be provided in the coming weeks.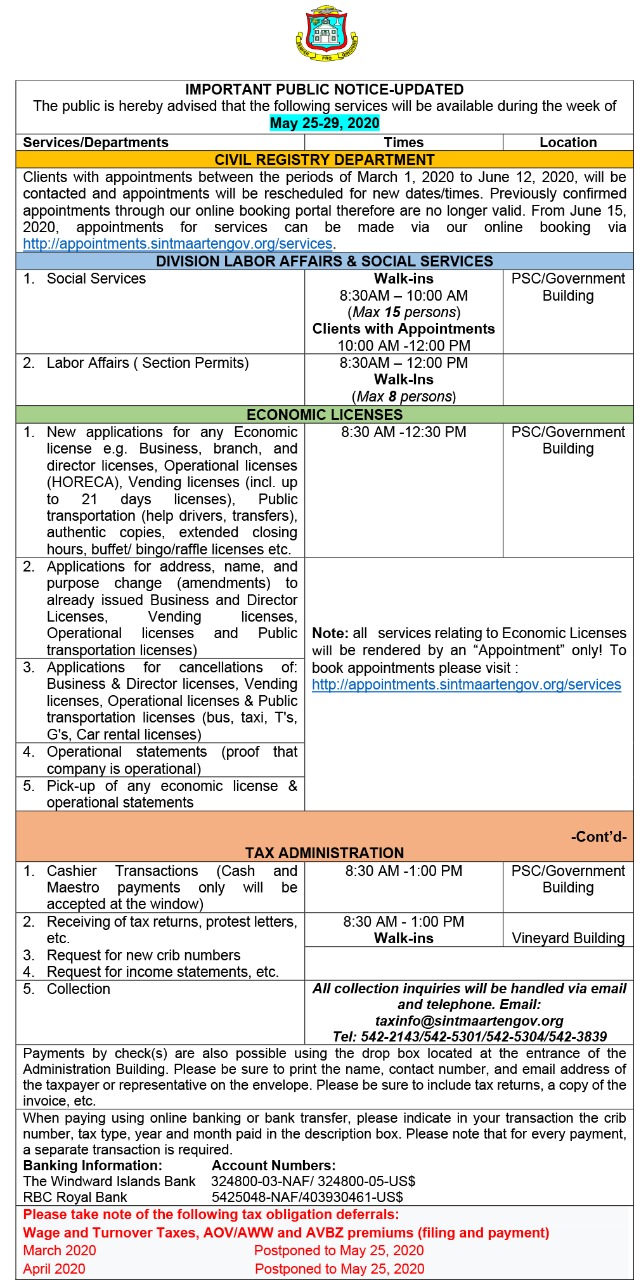 Source: sintmaartengov.org