The Sint Maarten Stimulus Support and Relief Program (SSRP) will be following new regulations starting June 1st, 2020. On May 13th the Netherlands sent conditions for receiving liquidity support for COVID-19. This included adjustments in the current SSRP structure and execution.
The Payroll Support Plan will subsidize a maximum of 60% of wages at SZV with a maximum of the ZV wage limit of NAf 5,651.36 per month. The new scales will go as follows: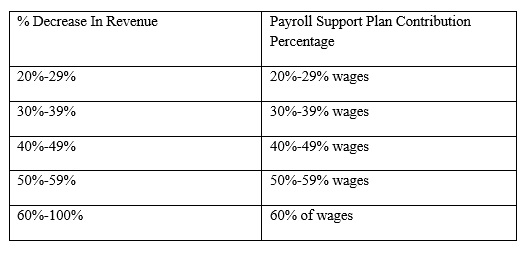 Two important differences in the original SSRP and the new Dutch conditions are:
·         There will be an establishment of a graduated scale: one to one ratio between loss of revenue and payroll support, with a maximum of 60% payroll support.
·        There will be a 20% employee contribution (this is to be regulated in writing between employee and employer).
As of June, employers voluntarily agree that by submitting their application, their company's name will be published as a recipient of Business Payroll Support (once granted). Lastly, to qualify for Business Payroll Support from June onward, employers need to provide written proof that employees have agreed to take a 20% reduction in salary. For all official information regarding the SSRP, please visit the official website at www.ssrp.sx