Update on fire at Simpson-bay Resort on Sunday august 13 th 2023
August 15, 2023 4:04 am
From: Head of communication Department
Inspector E.S Josepha
August 14th 2023
On Sunday afternoon august 13 th at approximately 13:30 today, Central Dispatch received multiple calls reporting a fire at several of the units within the Simpson Bay Resort located in Pelican. In response to the emergency, personnel from both the Sint Maarten Police Force and the Sint Maarten Fire Department were immediately dispatched to the scene.
Upon arrival, law enforcement and fire department officials promptly initiated evacuation procedures.
Firefighting operations were swiftly launched, with the Sint Maarten Fire Department's. Their efforts were successful in containing and ultimately extinguishing the blaze. Subsequently, a joint investigative team consisting of forensic department of KPSM and fire personnel commenced an examination of the incident to determine the cause of the fire.
Preliminary findings from the ongoing investigation suggest that the fire was not a result of premeditated or intentional actions. Instead, the evidence points towards an electrical anomaly as the potential cause of the fire.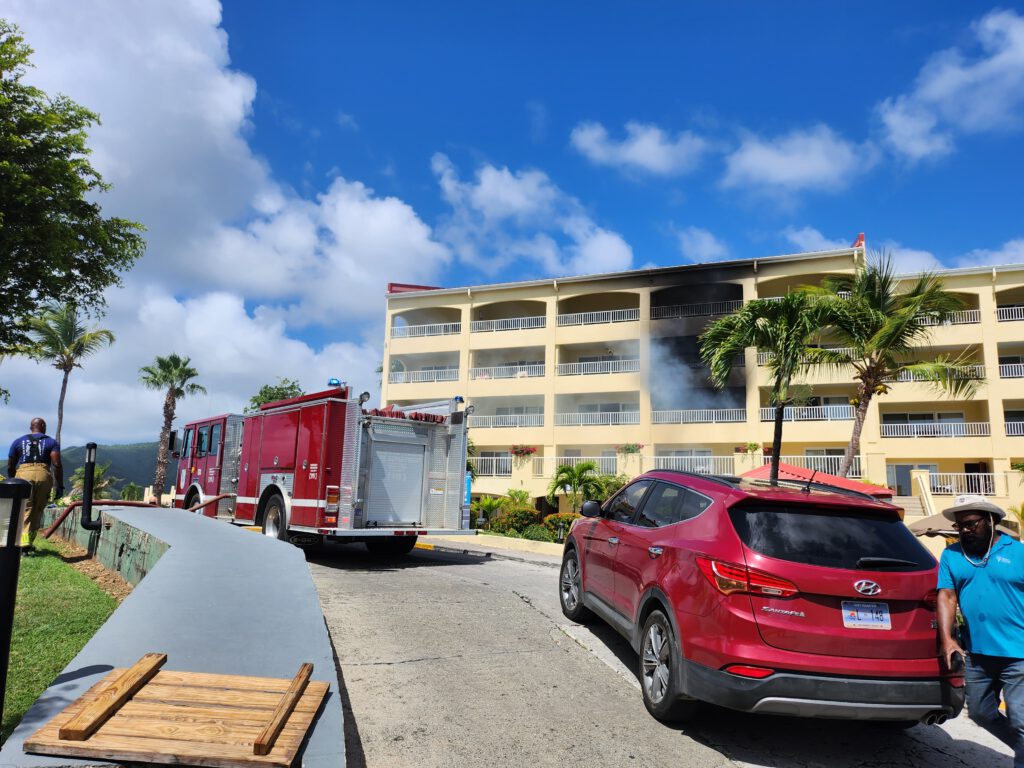 Arrest and Apprehension of Suspect Involved in Possession of Firearm and Attack on Police Officers
In the early hours of Monday, August 14th, 2023, officers from the KPSM (Korps Politie Sint Maarten) conducted a routine vehicle stop that led to the arrest of a suspect found in possession of a firearm, along with the subsequent attack on the officers during the arrest. The incident took place at approximately 03:35 AM on the A.Th Illidge road.
Upon initiating the stop, officers from the KPSM Control Team approached a blue Hyundai I- 10 with four individuals inside. As part of the standard procedure, the officers began to inspect the vehicle for compliance with technical requirements. During this inspection, a plastic bag containing a substance resembling marijuana was discovered.
Further investigation led to a comprehensive search of all occupants of the vehicle. During this search, it was observed by one of the officers that the driver was carrying a firearm concealed in his fanny-pack. Upon realizing that the officers had identified the firearm, the suspect, identified as A.D.G.H, attempted to evade apprehension and initiated a violent struggle with the officers. Throughout the altercation, the suspect repeatedly attempted to access the firearm within his fanny-pack, posing an immediate threat to the safety of the officers on the scene.
Despite the suspect's persistent attempts to seize the firearm, the officers managed to successfully subdue and arrest A.D.G.H. and confiscating the firearm. Following his arrest, the suspect was transported to the Philipsburg police station, where he is presently detained pending further investigation.
Regrettably, three of the officers involved in the apprehension sustained injuries to their arms, hands, and shoulders during the intense struggle with the suspect
The KPSM takes this opportunity to reaffirm its commitment to upholding the law, ensuring the safety of its officers, and maintaining public order. This incident serves as a stark reminder of the inherent dangers faced by law enforcement officers in the line of duty.