Sint Maarten Police Initiates Enhanced Traffic Controls, Yields Initial Results
August 15, 2023 2:56 am
From: Head of communication Department
Inspector E.S Josepha
August 11th 2023
The Sint Maarten Police Force would like to inform the general public of intensification of traffic controls aimed at addressing the ongoing traffic challenges on the island. These proactive measures involve comprehensive checks carried out at various locations and times to ensure strict adherence to all traffic regulations and guidelines.
The central objective of these initiatives is to elevate road safety standards and curtail accidents arising from reckless driving, excessive speeding, and other traffic violations. The police department is unwavering in its commitment to fostering responsible and safe driving practices among all motorists in the different districts on the island. As part of these checks, law enforcement officers will be meticulously scrutinizing a range of potential infractions, which include, but are not limited to:
Speeding
Non-payment of road tax
Use of mobile devices while driving
Vehicle technical irregularities
Failure to utilize seat belts
Motorists found to be contravening traffic laws will be subject to penalties and fines. The police Sint-Maarten (KPSM) earnestly urges all drivers to uphold traffic laws and regulations, ensuring the utmost safety of all road users.
Initial Results from Recent Operation:
In a recent operation launched on August 10, 2023, officers conducted inspections on a total of 85 vehicles. Consequently, 21 fines were issued to individuals found in violation of traffic regulations. Moreover, one vehicle was towed due to non-payment of road tax, highlighting the enforcement's dedication to addressing diverse issues. These controls took place in the area of Cause-way and welfare road.
Parallelly, the operation targeted scooter riders, leading to the interception and scrutiny of 4 scooter riders. This focused approach is instrumental in ensuring compliance with safety measures and regulations. Beyond its traffic-oriented goals, the operation yielded significant law enforcement outcomes. Notably, two suspects were apprehended due to outstanding warrants, with accusations of threatening other individuals. The police department's commitment to public safety extends beyond road-related concerns, reflecting its broader role in safeguarding the community.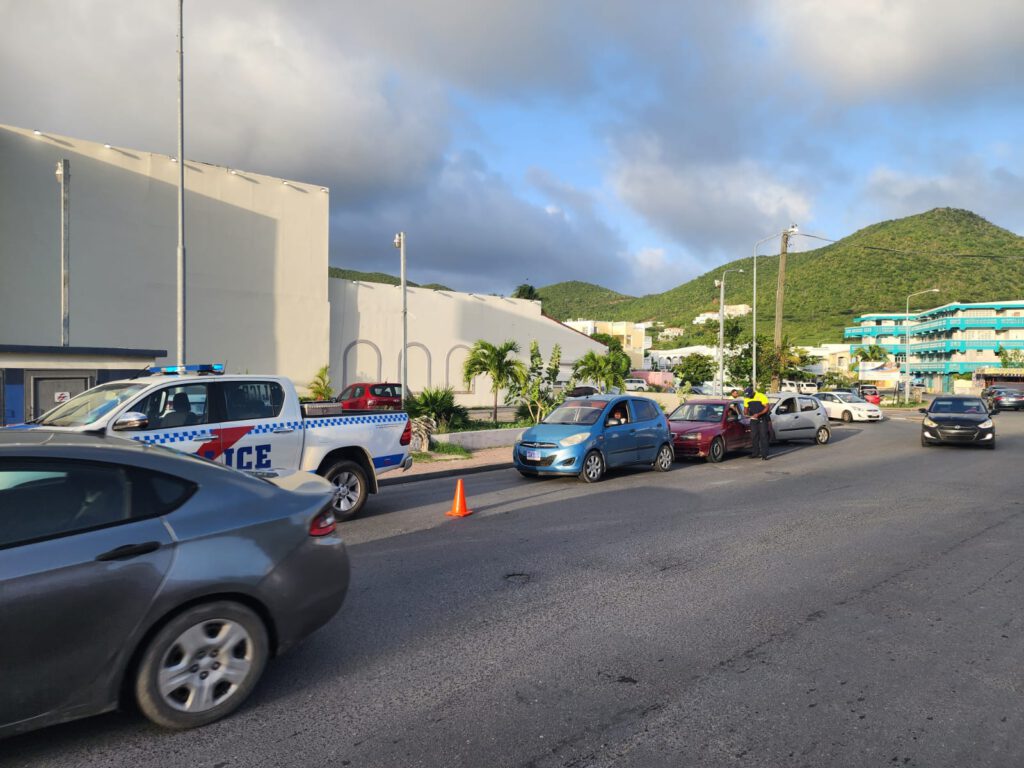 Sint Maarten Police Press Release: Prioritizing Student Safety for the New School Year 2023/2024
As our young students embark on their educational journey, The police Force of Sint Maarten emphasize the paramount importance of road and personal safety.
With the official start of the school year, we urge parents, guardians, and bus drivers to actively participate in safeguarding our children. Your input is invaluable in ensuring their well-being during their daily commutes. Responsible driving habits and adherence to traffic regulations are fundamental to creating a safe environment for everyone.
We kindly request parents to exercise caution and responsibility while navigating traffic. Let us work together to prevent any incidents that could lead to harm. We also call upon parents who transport their children to school on motorcycles to prioritize safety. Ensure your children are securely transported and avoid carrying more than one child on a motorcycle.
As partners in the community, your collective efforts can significantly contribute to the protection of our students. By fostering a culture of safety, we aim to create a learning environment that nurtures growth without compromise. Let us unite in keeping our students safe and ensuring a successful academic year ahead.
Suspect arrested on the back-street for theft with Violence
On August 11th, 2023, at approximately 10:30 AM, Police Central Dispatch received numerous distress calls reporting an altercation involving a shop owner/worker who had sustained injuries inflicted by an individual wielding a knife. In response, several police patrols and ambulance personnel were dispatched to the scene on Back Street.
Initial findings from the preliminary investigation indicate that the perpetrator, a man known to the police, entered the store and attempted to take a bag. As the store's owner/worker intervened to prevent the theft, a confrontation ensued during which the suspect employed a knife, causing injury to the store representative. Subsequently, the assailant fled the scene, having seized the stolen merchandise.
The victim received essential first aid (EHBO) from the ambulance personnel on-site and was subsequently transported to the Sint Maarten Medical Center for further medical attention. Following the initial incident, a police patrol responded to the situation and embarked on a mission to apprehend the perpetrator.
Shortly after officers encountered the individual with the initials V.S.A, who was identified as the suspect involved in the previous altercation. As officers attempted to effect his arrest, the situation took an escalated turn.
The suspect, V.S.A, brandished a hammer and made an attempt to assault the officers. The officers managed to restrain and apprehend the suspect, subsequently bringing arresting him He is currently detained at the police station for further investigation.
KPSM encourage individuals who may have witnessed this particular incident, or possess any relevant information, to come forward and assist the Detective Department in its ongoing investigation. Your cooperation is crucial in achieving a comprehensive understanding of the events that transpired. please call the police station on +17215422222 ext. 208/214 or the tip line at 9300 if you wish to remain anonymous.