Sint Maarten Police Force Addresses Armed Robberies and Urges Vigilance
August 16, 2023 9:17 am
From: Head of communication Department
Inspector E.S Josepha
August 16 th 2023
In the first half of the year 2023, the Sint Maarten Police Force (KPSM) has diligently investigated and addressed a significant number of armed robberies that have taken place across the island. From January 1st to June 30th, a total of 49 cases of robbery with violence, targeting both individuals (robbery on persons in public) and businesses, have been reported. These incidents have caused concern within the community of Sint Maarten.
The robberies that took place on businesses can be classified into several categories, which includes robberies on supermarkets, restaurants, and jewelry stores. The Sint Maarten Police Force recognizes the distress and uncertainty that these criminal acts can generate and are pleased to report that several suspects have been apprehended during this period, in connection with their involvement in a number of these robberies.
The areas that were mostly targeted by the robbers were Dutch Quarter, Lowlands, and Middle Region. The Sint Maarten Police Force has been actively patrolling and increasing police presence in these regions to deter criminal activities and provide a sense of security to the residents and businesses
While the Sint Maarten Police Force has been actively pursuing suspects and responding to incidents, we also urge individuals and businesses to prioritize their safety and security. The Police Force strongly recommends implementing necessary safety policies to protect both personal and commercial interests. We understand that maintaining security is a collective effort, and working together ensures a safer environment for all.
In recent weeks, during the months of July and August 2023, a concerning trend has emerged involving individuals who are leaving local gentleman clubs at night. There have been instances where patrons have been accosted and robbed of their belongings after exiting these establishments.
The Sint Maarten Police Force requests all individuals frequenting these establishments to exercise vigilance when leaving. Remaining aware of your surroundings can significantly reduce the risk of falling victim to such incidents.
The Sint Maarten Police Force remains dedicated to maintaining the safety and security of our residents
and visitors alike. We appreciate the cooperation and support of the community in reporting any
suspicious activities and providing information that aids in our ongoing efforts to combat crime. By
working together, we can create a safer and more secure environment for everyone on the island.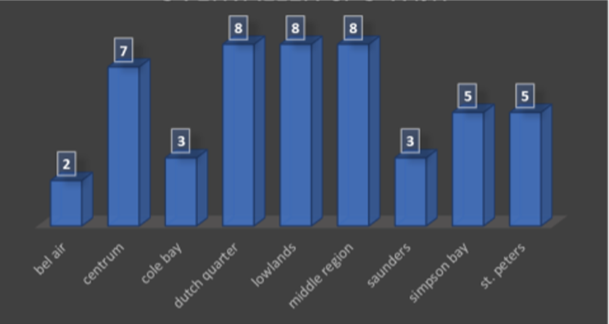 Police Force of Sint Maarten Raises Concerns increasing use of illegal vehicle lighting.
The Police of Sint Maarten is bringing attention to a growing issue that poses a risk to road safety – the increasing use of illegal vehicle lighting. This trend has raised concerns as motorists are outfitting their vehicles with lighting that is in direct violation of the traffic ordinance of Sint Maarten.
The traffic ordinance, as outlined in Article 76, has been put in place to ensure the safety and orderliness of road traffic, especially during nighttime hours. This regulation is meant to prevent confusion and hazards that may arise from the improper use of vehicle lighting. In recent times, the Police Department has observed a surge in traffic violations related to illegal lighting on vehicles.
Motorists have been observed driving on the public road with lights that emit colors such as blue, green etc. which are not in accordance with the prescribed standards. Moreover, there have also been several instances of brake lights that flicker when engaged, a clear violation of the ordinance.
These practices not only compromise the safety of the driver but also causes confusion and endanger other road users. The aforementioned practices are in direct conflict with the stipulations of Article 76 of the traffic ordinance.
Drivers on the public road who engages in the above mentioned practices risks being stopped and fined or having their vehicle impounded until they can remove the lighting that violates the traffic rules.
According to Article 76 of the traffic ordinance, it is prohibited to operate a motor vehicle on the road at night while equipped with lighting that could create confusion for other road users. The concept of confusing lighting includes lighting on the front or rear of a motor vehicle that deviates from the legally prescribed standards. The Police Force of Sint Maarten (KPSM)is committed to ensuring the safety of all residents and visitors on our roads. In light of the rising instances of traffic violations related to vehicle lighting, KPSM urge all motorists to comply with the traffic ordinance.
By adhering to these regulations, we collectively contribute to safer road conditions for everyone. In conclusion, the Police of Sint Maarten emphasizes the importance of adhering to the traffic ordinance and encourages all motorists to exercise responsibility and respect for road safety.