SINT MAARTEN CHIEF OF POLICE JOINS DUTCH CARIBBEAN COUNTERPARTS AT THE INTERNATIONAL DRUG ENFORCEMENT CONFERENCE (IDEC) IN JAMAICA
September 27, 2023 11:05 am
The Chief of Police C. John representing the Sint Maarten Police Force, and together with the other chief of Police of the Dutch Caribbean and other countries recently participated in the Annual International Drug Enforcement Conference (IDEC), held in Kingston, Jamaica, during the week of September 18, 2023. The conference convened high-ranking law enforcement officials and experts from around the world, with the theme centered around "Disrupting Transnational Criminal Organizations and their Supply Chains."
IDEC 2023 brought together over 900 delegates from at least 139 countries, providing a unique platform for sharing insights, strategies, and best practices in tackling the global challenge of transnational criminal organizations.
During the breakout sessions, law enforcement leaders expressed their deep concerns about the gradual infiltration of Fentanyl into the Caribbean region, including Sint Maarten. Fentanyl is an extremely dangerous and highly addictive synthetic opioid that has far- reaching consequences for individuals, families, and communities.
The Dangers of Fentanyl:
Fentanyl is a potent and highly addictive drug that poses significant risks to individuals, communities, and law enforcement officers:
Lethal Potency: Fentanyl is exponentially more potent than other opioids like heroin and morphine. Just a tiny amount, equivalent to a few grains of salt, can cause a fatal overdose if ingested, inhaled, or absorbed through the skin.
Highly Addictive: Fentanyl's addictive nature makes it particularly dangerous. Individuals who experiment with the drug are at high risk of developing a dependency that can be extremely challenging to overcome.
Overdose Risk: Accidental overdose is a constant concern with Fentanyl. Even individuals who are not seeking to misuse the drug can unknowingly ingest a lethal dose, especially when it is mixed with other substances.
First Responder Risks: Police officers and other first responders face significant dangers when encountering Fentanyl in the field. Inhalation of airborne particles or contact with the skin can lead to life-threatening exposure. Therefore, handling and disposing of suspected Fentanyl materials require specialized training and protective equipment.
Informing the Public:
To ensure that our community is well-informed about the dangers of Fentanyl, we recommend referring to the following resources: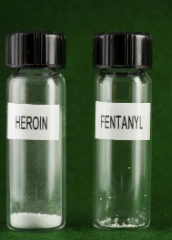 The Sint Maarten Police Force wishes to emphasize the importance of raising awareness within our community about the dangers associated with Fentanyl. The drug's potency and potential for abuse pose a grave risk not only to those who use it but also to public safety as a whole. Law enforcement agencies in the Dutch Caribbean are committed to combatting the illicit drug trade, protecting our citizens, and ensuring the security and well-being of the region.
The Sint Maarten Police Force, in collaboration with our Dutch Caribbean counterparts, will continue to intensify efforts to detect, intercept, and deter the trafficking and distribution of Fentanyl and other dangerous narcotics within our borders. We urge our community members to remain vigilant and report any suspicious activities related to drug trafficking to the authorities.
Together, we can disrupt the supply chains of transnational criminal organizations and safeguard the future of Sint Maarten and the Dutch Caribbean.