Celebrating Unity, Camaraderie, and Achievements: Sint Maarten Police Week 2023
October 10, 2023 11:03 pm
Sint Maarten is pulsating with energy and camaraderie as the Sint Maarten Police Week 2023 kicks off in style.
The week-long celebration began with a spectacular All White Party at the Sky Lounge, Simpson Bay Resort, where law enforcement officers from various delegations were welcomed by the Chief of Police of Sint Maarten. The Chief expressed warm greetings, urging everyone to participate wholeheartedly in the upcoming events and revel in the unique offerings of Sint Maarten.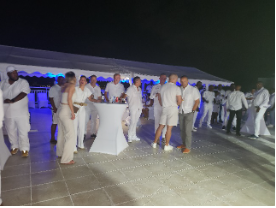 Day 2: Softball Competition at Little League Stadium (October 7, 2023)
The action-packed second day saw fierce competition on the softball field at the Little League Stadium. Teams from various delegations showcased their skills, with Sint Maarten emerging victorious in the Softball Competition. The win symbolized not just a triumph in sports but also the teamwork and determination that law enforcement officers embody in their everyday duties.
Day 3: Domino and Volleyball Competition at Great Bay Beach, Philipsburg (October 8, 2023)
Sunday's festivities took place on the shores of Great Bay Beach in Philipsburg. Law enforcement officers engaged in thrilling Domino and Volleyball Competitions. The Domino competition was won by the Aruba Delegation, showcasing their strategic prowess.
In addition to their Domino victory, the Aruba team also dominated the Beach Volleyball Competition, with Sint Maarten securing a commendable second place. These games not only demonstrated the competitive spirit of the participants but also highlighted the camaraderie among the teams.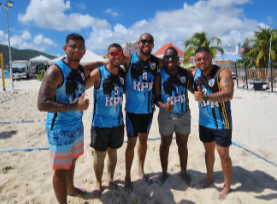 Upcoming Events:
The celebration continues with a range of activities, culminating in a heartfelt Church Service on Tuesday morning, October 10th, marking the official Celebration of Police Day. As the week unfolds, Sint Maarten Police Week 2023 promises more exciting events, promoting unity, camaraderie, and mutual understanding among law enforcement professionals from various regions.