No decision made on lockdown
July 25, 2020 3:11 am
~ three new cases confirmed by CPS ~
PHILIPSBURG -- Minister of Public Health Social Development and Labor (VSA), the honourable Richard Panneflek, deflated rumours circulating on Friday of a pending lockdown of St. Maarten. "I would like to make it clear that no decision to lockdown the island has been made contrary to the malicious voice note that circulated earlier today," said Minister Panneflek.
In a press release issued late Friday the minister did confirm that three new cases were reported by the Collective Prevention Services (CPS) bringing the total active COVID-19 cases to 19. "As of 4:00 pm on July 24 we have received reports of three new positive COVID-19 test results bringing the total number of confirmed cases on St. Maarten to 96 with 63 recovered cases and 15 confirmed deaths," the release stated.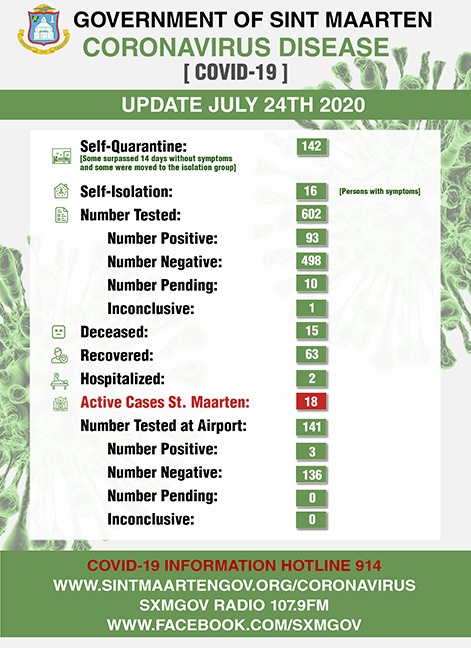 Rumours circulating via WhatsApp voice note suggested that there were more cases which had resulted in persons rushing to shops to get groceries in anticipation of the closure of the island. However, Panneflek said CPS did test an additional ten cases on Friday which remain pending. Once the results are known, the information will be released to the public.
As part of the Ministry of Health's ongoing campaign to educate the community on the preventive measures that can be taken to avoid contamination, Minister Panneflek said "I want to stress the importance of social distancing and adhering to all the safety guidelines set by CPS. I urge everyone to remain vigilant and conscious about the measures one can take to protect themselves. These include but should not be limited to wearing a mask, observing social distancing of two meters, and frequently washing your hands with soap and water or use hand sanitizer with a 70 percent alcohol base where possible."
Concerning the source tracing of the cases; of the 19 reported cases since July 1 to July 24 2020, there are four (4) independent cases that are not related to travel nor contact with a confirmed case. There also two clusters of nine cases four cases from Establishment number one and five cases from Establishment number two. Three of the nineteen cases were resulting from travel, (repatriation flight from the Dominican Republic), and the source of three additional cases is still pending completion of the CPS' investigation.
While on Thursday there was only one COVID-19 case at the St. Maarten Medical Center, CPS now reports that three cases total are now admitted to SMMC one of which is a French St. Martin resident which does not count towards the numbers on Dutch St. Maarten as they are separately tracked.
The release stated that four health professionals who showed no signs of COVID-19 are amongst the 19 persons who have tested positive. These four professionals are self-isolating at their homes and are being monitored continuously by CPS.
"CPS is still conducting contact tracing based on the nineteen cases that have been confirmed to determine where they have been and if anyone has been in contact with them. Once they can decipher these details, they will conduct tests to eliminate those who are not COVID-19 positive and isolate or quarantine anyone with signs of COVID-19 or who test positive for the virus."
"Our discussion at this point is focused on how best to scale back on large gatherings on the island, particularly those where it is evident that persons are not adhering to social distancing protocols. Our health professionals continue to work hard and provide the government with regular updates and advice on the best course of action as we continue the fight against COVID-19. If for any reason you suspect that you or someone you know has been in contact with a positive case monitor your health for symptoms of COVID-19 and contact your family physician
"I encourage you to remain safe and practice social distance. Remember wearing a mask is cool, and not wearing one is cruel. Wash your hands regularly and protect yourself and family," said Minister Panneflek.