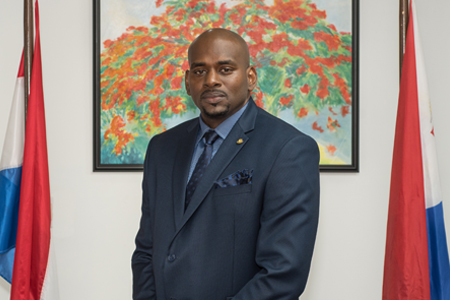 PHILIPSBURG — Minister Omar Ottley (Public Health) expressed his concerns about and his commitment to the fight against the COVID-19 pandemic during last Wednesday's Council of Ministers press briefing.
Ottley recently said that hospital capacity would soon be overrun. "People said: how can you make such a statement? Some people even say that COVID is not real. Tell that to the 38 families (of deceased COVID-patients) that are suffering. Tell that to the 3,045 people who got infected."
As of last week Wednesday, St. Maarten had 256 active cases. "We see 25 to 30 new cases each day," the minister said. "And they are one hundred percent of the Delta-variant, which spreads three times as fast as other strains."
The numbers the minister mentioned were already outdated the next day. According to the government's COVID-dashboard there were 308 active cases per August 12, an increase of 52 in just one day. Of this total, 18 patients are hospitalized and the remaining 290 are in home isolation. The total number of cases since the outbreak of the pandemic now stands at 3,128. The number of recovered patients stands at 2,781 and the number of deceased at 39. Up to August 12, St. Maarten had tested 37,841 people, of which 3,515 at the airport.
Related article: 40 confirmed COVID-19 cases on Thursday, August 12
Minister Ottley said that he supports vaccination. "But if you don't want to be vaccinated, that is okay. In that case, I urge people to check their status. Last week, CPS (the department of Collective Prevention Services) saw a record number of people getting tested."